Trending Blue Coffin Nails For Sophisticated Look
Coffin nails have been in trend since forever. Celebrities are often found flaunting these nails every now and then. Coffin nails add that extra jazz to one's nails. They are pretty long for a standard nail length but are worth going for! There is no seasonal restriction to these. Coffin nails suit any weather and season. If the nails are pretty healthy and strong, one can grow them out to a desired length. But if that's not the case, acrylics are here to save us. Coffin nails look slightly narrow at the end but kind of wide at the very bottom, around the cuticle.
Nail health is also very necessary when it comes to coffin nails. Make sure to use cuticle oil and buff your nails before going for coffin nails. Try not to make the edges too sharp since that can result in many minor injuries and we certainly do not want that.
One of the colors that would look bomb on coffin nails is blue! Blue coffin nails are pretty and one can experiment with these coffin nails with multiple tones of blue!
From light to dark, from mismatched to straight solid, coffin nails make any color look amazing and not too much at all.
Blue Coffin Nails Designs
At first, these nails were seen on many celebrities in different colors. But, as of now, ladies are going beyond matte and trying every single variation for their pretty nails.
Blue Coffin Nails for Busy Women/ Press On Nails
Women, who are busy going to a nail salon every now and then, can try press on coffin nails to make the whole process easy. Within minutes, it's easier to achieve the coffin nail look that one is going for.
Formal Events: Blue Coffin Nails
Well, if one is going for a formal event, it is not suggested to go for super lengthy nails. Keeping the nails short is a yes from many etiquette consultants in fact they say it gives an elegant touch to the feminine hands.. Dark blue coffin nails would be amazing for night formal events especially when paired with a monochrome blue or black dress. A pearl necklace would accentuate the beauty of the woman.
For The Beach: Blue Coffin Nails
Light b. coffin nails are great for the beach or a casual picnic. One can even add different kinds of color, such as pink to create different looks.
Rhinestone Coffin Nails
Rhinestones are no less. Currently, they're trending all over Pinterest and with b. matte coffin nails, they're a terrific addition!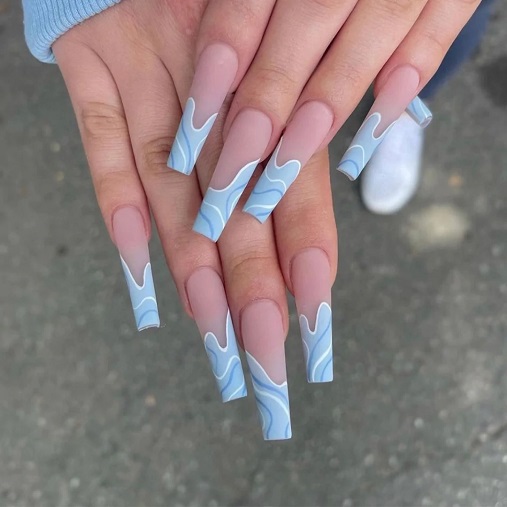 Gloss And Glitter
Glossy nail lovers are going to love this nail shape and color. A glossy finish with glitter on dark blue nails is satisfactory.
Hand Painted
Not just the glitter finish, 2022 is seeing a lot of hand painted nail art and making blue the central color on coffin nails is absolutely gorgeous. Artists are extremely happy to be working with blue as it is eye captivating and truly would suit any skin color.
Also Read: Smiley Face Nails | Juuzou Suzuya |