Smiley Face Nails: Ideas, Images, Creative, Looks
Smiley Face Nails: Intro
It is very easy and safe to say that collectively we all need as much positivity in our lives as possible. Smiley face nails are incredibly popular right now and trending and we all are absolutely loving it. Some people might have considered smiley face manicures the biggest nail trend of the year, and smiley face nails are a classic. The design of smiley face nails has become a yearly go-to when the weather gets warm, and really gives summer fresh vibes. And with all the creative ideas you can remix and create smiley nail design that can never go out of style (Smiley Face Nails).
There is such no icon of happiness quite like the quintessential smiley face symbol. Typically shown in cheery shade of yellow, normally displayed in ultra-bright, multi-patterned designs, and multi-coloured designs, smiley face nails are super fun, super cute, and looks super unique.
Smiley Face: Check out some of the ideas that you can also get inspired to put on a smiling face on your nails:
You can never go wrong with the classic design. The cutest nails keep the thing simple with a several smiling pattern. The overall look of your nail design is going to give you a very minimal look.
You can also pair some smiling faces design with some trending cow print in a monochromatic colour way to give it an uber model look.
You can also give your nail a melting smiley face nail pattern design and they are really look like that they're dropping off the nails.
If you can't be able to decide nail design, then you can choose some smiley face nail pattern on one finger and on rest of the finger keep it simple.
Give your nail a psychedelic smiley face theme that continue with these acid trip nails and its also increase the cuteness factor of the pastel theme pattern.
You can add on the smiley face pattern amongst a cacophony of contrasting pattern for huge impact no matter whatever the size of the nail is.
The one of the very trending and cutest smiley face nail pattern is that you can design it up with a sunflower pattern with contrasting yellow and white shade of nail.
Pair the smiley face nail art with some glitter to enhance the overall look of the nail.
NAIL PATTERN DESIGN & IDEAS:
Traditional smiley face nail: You can never go wrong with the beautiful nails that make you happy. Do grab some yellow-coloured nail Polish and don't even spare an inch with the traditional smiley face nail design and you can have the happy faces all over the name to give it a traditional smiley look.
Smiley face flower:  We all can say that springtime like a cheerful, smiling face nail design combined with daisies. The combination of both, says that you are ready for all that the warm weather and summer has to bring, including the blooming florals and the merry, and happiness that comes along with them.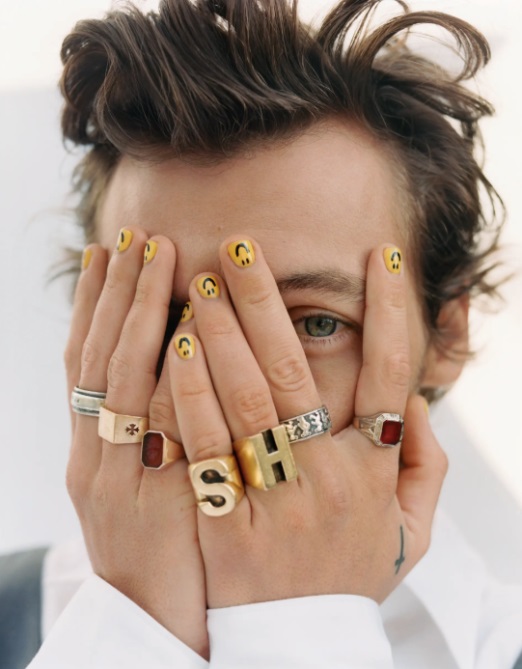 Mismatch smiley face:  If you want even more different shades then you can try a smiley face design with a different base shade on each of the nail. Search ten different sunny and summery shades of the spectrum to show people that how exactly it feel feel now that the weather is getting warmer and the days are getting longer now.
Also Read: Juuzou Suzuya | Juice Robinson | Leyla Hirsch