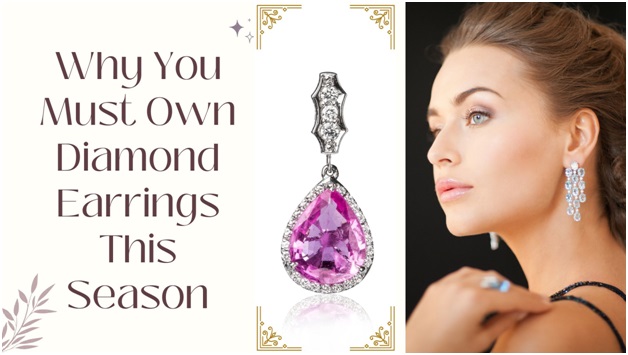 Why you Shouldn't Miss Diamond Earrings for the Upcoming Sale This Season
Diamonds are precious stones made of 100% carbon. They symbolize beauty, brilliance, and allure. Their appearance comes with a shine that no one can deny.
Diamonds are widely craved all over the world and bear a very rich history. They are incredibly rare, and one of the only four precious stones in the world with a market price of about $10,441.11 per carat.
Diamonds will remain favored by everyone and highly treasured. They are popularly referred to as "A girl's best friend" because they symbolize steadfast love, purity, class, and wealth.
Reasons Why Diamonds Earrings Should be a Part of Your Jewelry Set
There is absolutely no reason why you shouldn't own a diamond pair of your own. They can come into your jewelry set as diamond pendants, engagement rings, solitaire jewels, etc.
Here are 5 reasons why you should prioritize adding more diamond earrings to your collection, or get some if you own none at all.
1. They Are Treasures
Diamonds have long been placed on a high pedestal amongst other jewelry, and precious stones. They are literal treasures everyone craves to own.
Their value is not just reliant on their reputation amongst people, but on their market value as well. Diamond earrings do not diminish in value and will serve as a huge investment for you at the upcoming sale this season.
Diamond jewelry is a great asset, and its value has greatly increased over the years. So there is no reason to say no to an opportunity to shop for value and brilliance at the same time.
2. Diamonds Exude Class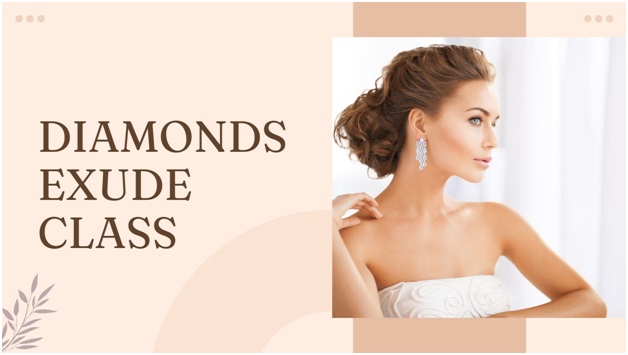 Nothing better to give you the classy look and earn you respect when you walk into any room than diamonds. If you want your outfit to sparkle with a touch of class, go for diamond accessories.
Diamonds symbolize wealth and class. People know that you must have a high amount of both, to possess diamonds. They give you a look of elegance and make you stunning!
They are the perfect option for your solitaire jewel. The simplicity will only add to your classiness. So remember that owning diamond earrings will speak highly of your sense of style.
3. Durability
Diamonds will never lose their shine no matter how long they stay. Their durability is a huge plus for you. They are the kind of jewelry that you can pass on to your children for years to come.
This does not mean that you will handle them carelessly, no. The more real your diamonds are, the more care they demand from you.
You would want to spend your money on accessories that can stand the test of time and last longer for you. This is where diamond jewelry comes in.
4. Portability is Assured
One of the most appealing qualities of diamonds is their portability. It gives them an edge over weighty gold bars.
Lab grown diamond earrings are much easier to carry around, and this remains one of the reasons why they are a preferable option. No one wants to have to worry about how to move their valuables. Diamonds provide this ease.
They are not just easy to carry about, they are also easy to keep. They occupy little space and so can simply be stored in a jewelry box.
5. They Have Great Symbolic Relevance
Diamonds represent a lot of priceless value. It doesn't matter if you are buying them for yourself or gifting them to a loved one. This is why they are the best option for your engagement ring. They will hold a sense of sacredness and deep love in your relationship with the one you love.
They are also a beautiful option for solitaire wedding rings along with the diamond earrings. They represent purity and long-lasting love. They remind those you give them of how much you value them, and how steadfast your love for them is.
What to Look Out for When Choosing Your Diamond Earring
It is very important to be enlightened on how to choose the perfect diamonds for the earrings before you begin your jewelry shopping. Below are a few tips to help you make the right diamond earring choices as you step out this festive season.
1. The Clarity
The clarity of a diamond is one of the major factors to consider when making your choice. Your diamond has a high clarity when blemishes are absent. Carefully look out for tiny blemishes and imperfections on your jewelry.
Diamonds have to go through deep heat and pressure consistently before they are formed. All of these contribute to whatever blemishes they sustain.
To have a correct evaluation of a diamond's clarity, you will be needing a 1OX microscope. Strive to enlighten yourself and get more acquainted with the diamond market. That way, you will be able to make the right choices by inspecting the jewelry with your eyes.
2. The Color
These lab grown diamonds come in color ranges. When choosing your diamond earrings, you must bear this in mind. The perfect color for your engagement ring may not be the same for your diamond pendant.
Diamonds are highly reflective. This tells you that color is a very important factor when it comes to diamonds. When shopping for diamond jewelry, look out for color grade D to H. They consist of the most colorless and best value. However, keep your budget in mind.
Your diamond jewelry will pick up the color of whatever they are set in or is around them. From your hair to your dress to other accessories, so you need not to worry.
3. The Cut
The cut of your diamond earring plays a major part in the amount of sparkle they carry. The proportions, balance, and polish of the diamond should be excellent before you go for them.
Round brilliant lab created diamonds are considered the most popular and stylish cut of diamonds. They are perfect for your jewel and diamond pendant.
4. The Carat Weight
The worth of diamond jewelry just like gold is determined by its carat weight. You have to prioritize this quality when making your choice. It is important because you might want to resell your diamond in the long run.
The only way to get value out of your diamond in the future is to ascertain that you pick highly valuable ones now. The most popular carat weights for diamonds are usually 1.0 to 1.9.
The cut of the diamond is the most important of all its four important qualities. Be sure to pay great attention to this, when making your choice.
Conclusion
These are pretty much the important factors to consider as you begin your diamond journey. With these tips in mind, you are ready to start shopping. Make sure your shopping list for the festive season is crowned with diamonds.