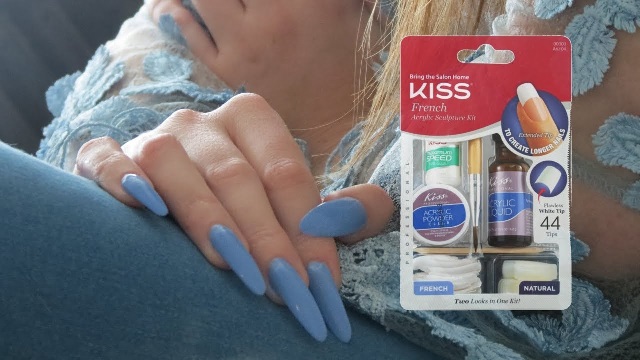 Benefits of Kiss Acrylic Nail Kit
Acrylic nails are natural nail extensions. It consists of liquid and powder. The natural nail bed is first filed down, and then this combination is put with a brush on top. Like getting a manicure, applying nail paint involves using a base coat, colour, and topcoat before drying with a fan. Using kiss acrylic nail kit is a great way to change your nails' appearance. Once you master the application technique, they'll be able to add length, colour, and a consistent form to produce a fabulous manicure. These will work if you want to change yourself without going to the salon. If you have young children or a lifestyle requiring a lot of manual labour, press-on nails are not practical to wear. Some people might like acrylic nails; remember that the recommended wear time is only seven days before using a new set.
How to Apply Acrylic Nails
Application of fake nails is easy. Apply glue on the back of the fake nail and your natural nail when it's time to affix it in place. If you don't completely cover each surface, air pockets will be visible through the painted nails. Twist off the numbered tab and shape the fake nail to your preference. Do this after holding it over your natural nail for five seconds. It takes around 10 to 15 minutes to measure your nails. Using adhesive, then attach them in place on both hands.
Benefits of Using Acrylic Nails
Long-lasting – Because acrylic nails stay so long, they are in demand. They are more durable than gel nails and less likely to break than natural nails. Furthermore, because artificial nails have been around for a while, nail technicians have experience in putting and removing them.
Many Design Possibilities – Acrylic nails can be used as an extension at the ends of the nails or to completely cover the nail. This provides you with the choice between getting a French tip manicure using your natural nail or picking from a wide variety of nail polish styles. Simply cut off the nails and have new ones done. This time with a different design if you grow tired of the present one.
Natural appearing acrylic nails might resemble your natural nails depending on how the user paint them. This is especially true if you have a skilled nail technician who can more accurately simulate the appearance of natural nails.
Prevent Biting of Nails – Covering the nail is the only method to stop someone from biting their nails. Since acrylic nails are far more resilient and difficult to chew or bite in the first place, most women who chew their claws won't do so with them.
Defend Brittle Nails – Women who naturally have weak, brittle nails can also benefit from acrylic nails. This makes it easier to avoid unpleasant breakage and gives you the freedom to accomplish things you otherwise might not be able to do without ever worrying about damaging your nails.
Press-on nails have several benefits, including being temporary, simple to remove, priced, and aesthetically pleasing. Press-ons not only change the way your nails look, but they also make you feel more confident. This is a unique item that completely changed the experience of getting a manicure at home.
However, whether you're spending the entire day with your children, cleaning the house, or using your hands frequently, many people who work with their hands often may discover they're not great 24/7. However, Kiss acrylic nail kit is elegantly able to give your nails an instant and much-needed lift. They are a perfect alternative for a date night or other special occasions.