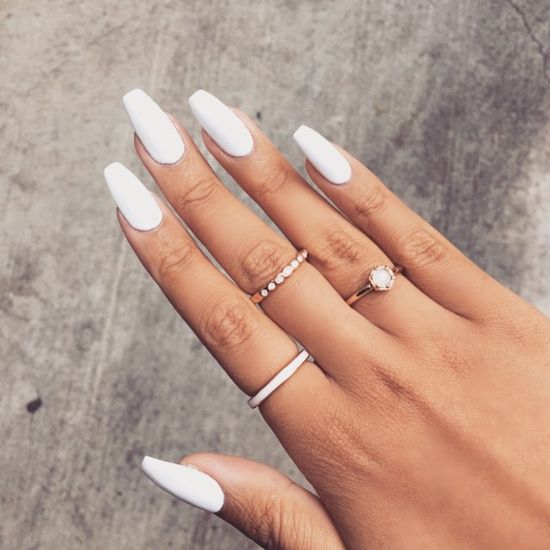 Long White Nails: Ideas, Looks, Creative, Touch
White nails are everywhere these days. Starting from high schoolers to working women, everyone is so obsessed with them. Although they are trending right now, once upon a time during 2016- 2017 there were the only nails any woman would wear to Starbucks or groceries or meeting friends or attending college. Basically everywhere! They were incredibly hyped up. It is a bit surprising that till date they are in trend and did not lose their popularity. These white nails come in many shapes and lengths. This way one can choose the kind of nail length or shape that they are comfortable with and be satisfied with their brand new white nails!
Let's take a look at some of these stunning white nails and their designs!
Long White Coffin Matte Nails
How beautiful nails can look when they are freshly done! Especially in coffin nail shape!
Long white coffin nails are stunning to look at and indicate elegance and femininity. They look incredible on lighter skin tones. When worn, it would not seem like they put a lot of effort into nails. Also, they are practical for working women and college going young ladies too!
Long White Almond Nails With A Touch Of Pink
White nails can not just be worn as it is. A coat of pink can be applied on the base coat and secured with a top coat of nail polish to seal it. A subtle layer of white can be added on top of everything. This makes the pink colour of the nail appear in the centre while the white spreads all over through the centre. Almost like a French top but not exactly that. Women who are bored with usual white nails can try this nail look and see how they feel about it. Pretty sure most of them would continue wearing these nails as they are ravishing and sophisticating to look at! These nails can be worn to fancy events and formal meetings.
Long White Stiletto Nail With Hearts
Everyone likes to have a couple of hearts either on their jeans or coffee mugs. Hearts on nails is not a good topic to discuss now. While hearts on white nails are. A stiletto nail is a good nail shape choice for such a  design. It gives good appearance and also space to work upon those hearts that one is going for. A plain stiletto nail is what we need as our canvas. Like always, go for the base coat first and then go ahead with the white nail paint. Do not be shy and apply two or three coats of it for extra coverage and for the pigment to really show up from the nail paint on to the nail. Top it off with a top coat and draw little red hearts in random directions at random places onto the nail. Choose a bright red color rather than a deep red color for this nail look. You can add gloss over it to make it look more fancy. Rock these hearts and white nails on a picnic!
Also read: Pride Nails | Sasha Banks Net Worth | Alexa Bliss Net Worth