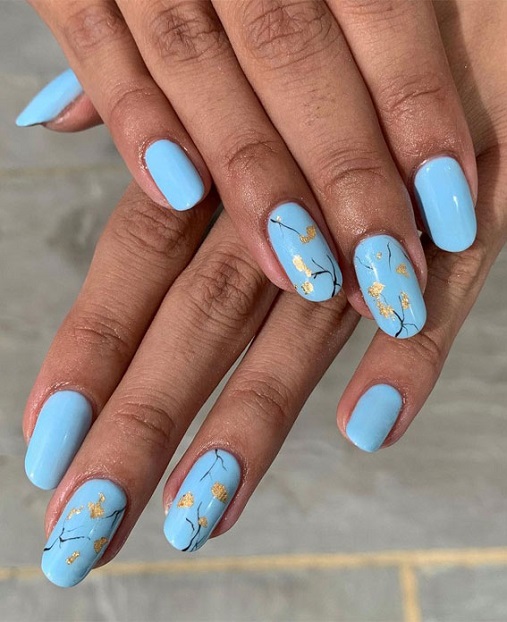 Blue Nail Design: Ideas, Looks, Creative, Images
Blue Nail Design: Introduction
If you are looking to add some classy and royal colour to your nail art, then do consider these beautiful blue nail designs and patterns. Blue is one of the tranquil and energetic, sweet, and sassy, and it can be used to design a nearly limitless different variety of looks. When you decide to use blue colour as your initial nail design colour, you are surely opening yourself up to an incredible number of possibilities. Having blue coloured nails turns your cuticles into a fun, crazy, and fashionable accessory that you can work however you choose from formal to casual.
Blue Nail Design: Ideas
The Blue shade is one of the most abundant colours among all the tone, examples like sapphire blue, turquoise blue, aquamarine blue, and azure that really help to emphasize and enhanced that different and gorgeous blue shade all around us. Plus adding something a little chilly into your look is just the right seasonal touch to you nail patterns.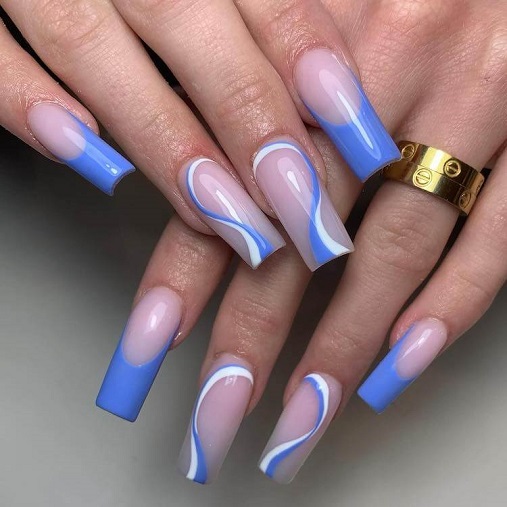 The variety of blue is probably one of the reasons that the colour is most popular, and the universally flattering and charming shade nearly everyone looks good in blue shade, and most people can try off multiple shades of the colour. Blue shade works perfectly as an accent colour but can also serve as the most dominant colour; in other words, it also thrives whether it is in a strong supporting role or taking centre stage.
For all these enough reasons and more of it, you should try considering blue colour for your next nail design and pattern, whether you like sparkly, glittery, or solid, elaborate, or simple, there is a few blue nail designs for you. This list features fifty of the coolest and most on point blue nail designs and is an amazing starting point for your next bold minimal blue look:
Points
Pastel Blue Stiletto Nails with Sparkles- Design up your nail game with the long and spiky stiletto blue manicure. The multi-coloured nail idea starts with a baby blue coloured base coat. It elegantly gives way to amazing blue and silver sparkles. Some of the nail's designs are fully encrusted in shiny things. In between, one finger on each hand consists of a blue foundation with shimmering and glittery ombre nail tips.
Simple Square Sapphire Nails- Sapphire gemstone-inspired blue nail colour is classy enough to stand alone. The cropped short length nails get straight to the point. The glossy and gel-based topcoats help those cool blue embellishments to shine through. There is absolutely no need to show the detail patterns. This simple, classy, sophisticated nail ideas and pattern can stand on its own.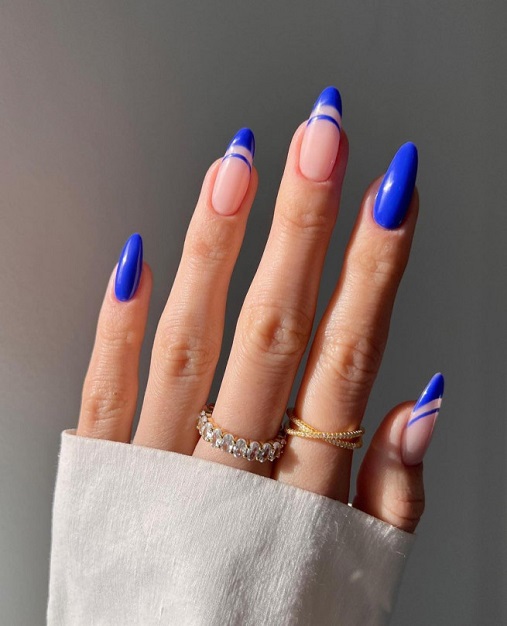 Simple and Classic royal True-Blue Nails- Whether you are going to support your favourite sports team or just simply sporting your favourite colour, this super glossy blue nail look makes for a fun, creative, and playful choice. The faux sheen creates the whole texture and depth of design, while the otherwise solid blue shade makes a royal and bold statement. This is one of the best blue-coloured nail ideas for anyone looking to simply just show off their favourite colour.
Also Read: Royal Oak Nails | Fall Acrylic Nails | Blue Coffin Nails