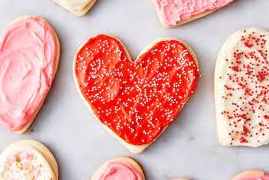 How to promote Your Valentine's Day Brunch on Social Media
Valentine's Day is arriving soon, and couples have definitely already started hunting down a place to spend the day with their beloved. As a restaurant owner, this is the perfect time to come up with ideas that are sure to grab the attention of old and new clients alike.
There are different ways you can up your game on this special day, such as introducing a special menu, offering special packages, hosting different events, etc. However, if you want to really attract more people to your restaurant, then there's no better way to do it than by promoting your Valentine's Day brunch on social media.
Promote best-selling products
Although running a promotion on items that people can buy as gifts is a traditional move, it's still very effective. In fact, one can argue that customers anticipate this and often plan their budget in advance.
Chocolates, jewelry and flowers are often the most sought-after products during this special holiday. But that doesn't mean your restaurant can't capitalize on this event. Offer special packages and discounts on the best-selling items from your menu and make sure to promote them on social media to reach a wider audience.
Use hashtags
Hashtags are always great for promoting your business on social media. It's an easy way to track how many people are talking about your business based on who's using your hashtag. A combination of hashtags is always recommended; one that's unique to your company and one that's already popular.
However, you should make sure not to use hashtags haphazardly. Make sure the hashtags you use are relevant to your post. On Twitter, you can ask users to share their best Valentine's Day experience, followed by relevant hashtags.
You can also post on Instagram, promoting items from your menu with the hashtags or asking people to post images of their favorite Valentine's Day meal with your hashtag. You can even turn it into a contest! There are Instagram post templates offered by online tools, such as PoserMyWall, that you can use.
Go all out on advertising
The constant algorithm can make it hard for you to reach your target audience. This is especially harder for small business owners. It's important to establish the frequency of your posts for your existing audience, but advertising helps extends your reach to those who have not followed your page yet.
Always keep in mind the goals that you want to achieve every time you run a paid campaign. These goals can include the number of visits to your site, increase in engagement rates, number of times customers use your promo code, and new followers or email submissions.
Don't hesitate to pour out all your creativity on your social media posts. These serve as online Valentine Day's flyers that are meant to persuade people to patronize your restaurant. If you're looking for inspiration, then there are different templates available online on sites such as PosterMyWall.
Create interactive apps or experiences
Interactive apps greatly help improve customer experience and, in turn, significantly increase the engagements you receive on social media. This strategy was used in 2012 by Heineken, where they created a Facebook app called 'The Serenade.' Customers used the app to create personalized serenades for their significant other.
It can take a while to develop apps such as the one mentioned above. However, the same effect can be achieved by offering customers a tool that allows them to create something themselves. You could let them create their own Valentine's Day card that comes for free with their meal or something along those lines.
When you combine this strategy with influencer marketing magic, it can do wonders for your brand awareness.
Don't leave the singles out!
Although Valentine's Day used to be a day reserved only for couples, people don't see it that way anymore! Now, it's a day that is meant to celebrate love in all shapes and sizes. So make sure you don't leave the singles out when promoting your restaurant for Valentine's Day.
While couples plan a special night for Valentine's Day, other people celebrate by treating themselves to something special, planning a get-together with friends or family, or, interestingly enough, purchasing an 'anti' Valentine's Day gift.
If you want to include singles in your marketing strategies, then Instagram is a good place to start. Create engaging posts with fun hashtags to catch their attention and make them feel special on the day of love.
Examples of fun Instagram hashtags for single people include:
#single
#antivalentinesday
#whoneedsavalentine
#galentinesday
#singlesawarenessday
Final Thoughts
Valentine's Day is one of the busiest days of the year, especially for restaurant owners who have to cater to couples celebrating a special night or singles bringing along their friends and celebrating their own version of love. By using the tips listed above as a guide, you'll have customers flocking to your restaurant in no time!